ORDER A CAR - WE WILL DELIVER IT
Are you dreaming about a car that comes to You, when You want to drive it?
Stop dreaming, it's time to order a car! Choose which model you want, when you want it - we will deliver it to You!
What will You get when You order a car?
A car for at least 24 hours
We provide CityBee car delivery to clients who plan to use a car for at least 24 hours. The daily rate for the car will be applied at the time when the car is delivered and the reservation is started. Of course, the car can be used for less than 24 hours as well.
As many as you need
Are you planning a trip with your friends, co-workers, family? No problem - we have a lot of cars - we will deliver as many as you need!
Everything included
Fuel, insurance, parking in CityBee zones, clean car, hand sanitizer, technical assistance.
No worries
Order a car and don't worry! You won't have to worry whether a CityBee car will be available at the desired time and place, if it will be clean, will it have hand sanitizer and if it will be in full working order - we will take care of it all before the delivery!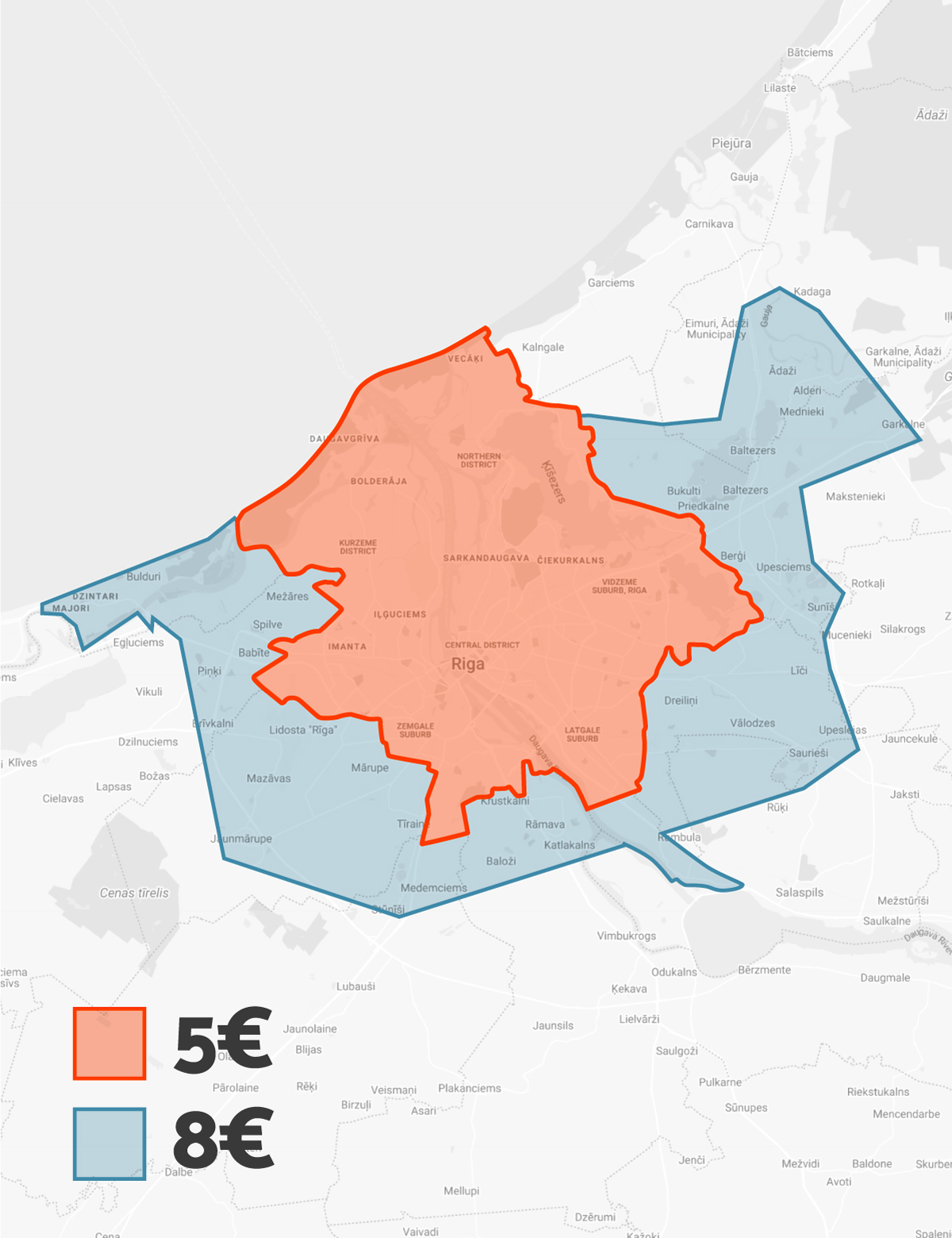 Ordering and delivery
Fill in the form below at least 12 hours before the desired delivery time;

We will contact you once we receive your request;

Cost of delivery is 5 or 8EUR (see map);

Daily rate of the selected vehicle will be applied in the first minute of the reservation;

Delivery service can be cancelled up to 3 hours before the desired delivery time.
Questions? Contact us or look for an answer below 🐝
Frequently asked questions
Can I cancel the car delivery?
Can I order a car to outside Riga?
How will you charge the delivery fee?
Can you deliver to car parks where parking fees are charged?
If I order, do I need to use the car for the full 24 hours?
Can a car be ordered by a company user as well?
How quickly will you contact me after I placed my order?
What will I pay once the daily rate of 24 hours ends?
How will I receive the car?
Will the car be delivered exactly at the time I ordered it for or sooner?
What happens if the delivery is delayed?
Will the car be cleaned prior to the delivery?